Special Offers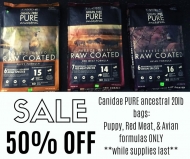 While Supplies Last,take 50% Off Canidae PURE Ancestral 20lb bags *puppy, red meat, and avian formulas only!
Expert Articles & Advice
July 15, 2019
Summer is a great time to enjoy all sorts of outdoor fun, but when temperatures rise too high, conditions can become uncomfortable and even dangerous for pets. Conscientious pet owners, however, can take easy steps to keep their pets cool and safe even on the hottest days.
Watch Our Videos!
Introducing a Puppy to the Pack
Dogs can be the best teachers of puppies around if we take the time to introduce them properly. Dog Psychology Center trainer Todd Langston shows Andre Millan the secrets of a good first meeting.